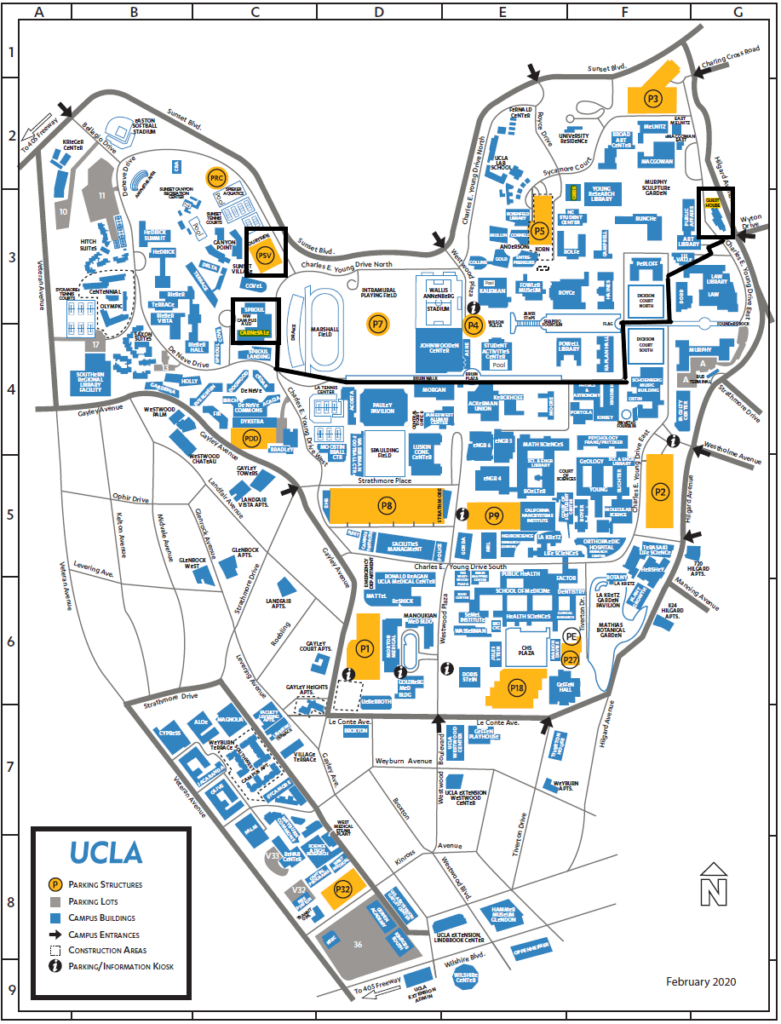 The closest major airport to UCLA is the Los Angeles International Airport (LAX). The UCLA campus is located approximately 15 miles north of LAX. Driving time from the airport varies depending on the day of the week and time of day you are traveling. During non-rush hour traffic times, plan on about a 45-minute drive between the campus and LAX; during rush hour traffic, plan on an hour or more. From LAX, take the 405 Freeway north to Sunset Blvd. and follow the directions below to the UCLA Guest House.
From the 405 Freeway
Exit Sunset Blvd. and travel east on Sunset 2.5 miles.
Turn right onto Hilgard Avenue. Drive south on Hilgard 0.25 miles.
Turn right on Wyton Avenue and proceed to the stop sign.
Turn right onto Charles E. Young Drive East.
The UCLA Guest House is the three-story building located immediately on the right side of the street. There is a 10-minute loading zone in front of the Guest House.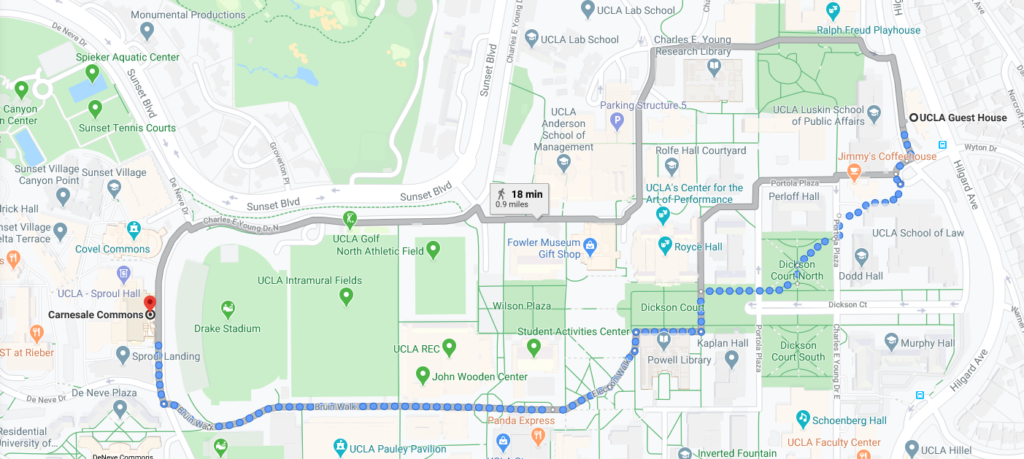 The walking route from the UCLA Guest House to Carnesale Commons ( 350 De Neve Dr, Los Angeles, CA 90095) is shown in the map above. Irene Pasquetto and Peter Darch will meet workshop attendees in the lobby at 8:00AM to begin the 18 minute walk to Carnesale Commons. Alternate transportation is available. We will initially be meeting in the Hermosa Room on the 2nd Floor.

Workshop organizers will be ordering group ride shares to the Petersen Automotive Museum (6060 Wilshire Boulevard, Los Angeles, CA, 90036) from Carnesale Commons. Drago Ristorante is located within the Petersen Automotive Museum.